Interested in making your own RPG game? Find out how to make an RPG game using these RPG makers for beginners.
Computer RPG Creation Tools
There is a variety of RPG game creation tools made specifically for making your own RPG.
These tools have toolsets and functions made to support the creation of rich RPG games.
Some of these tools have been abandoned, but some are very popular and are being continuously updated.
The abandoned tools will be covered for historical context, but we will be focusing primarily on the more recent tools.
1. RPG Maker MV / MZ
RPG Maker MV / MZ
Runs On: Windows, Mac
Exports: PC, Mac, Android, iOS, HTML5
Price: $79 USD (Sometimes available on Humble Bundle or Steam at HUGE savings)
Skill Level: Beginner To Intermediate

By far the most popular of all the RPG creation tools, RPG Maker is recognized as the leader in multiplatform RPG makers.
RPG Maker helps users create 2D RPGs styled after JRPG games.
With it's easy-to-use, accessible interface, powerful, built-in tools, and JavaScript plugin extensibility, it's no wonder this product is so well-loved by its users.
Create your game and export it to a variety of platforms including PC, Mac, Android, iOS, and web browser delivery.
The program includes a large number of assets, such as over 100 sample maps, Character Generator Parts, and more.
The Runtime Package (RTP) contains a generous number of tiles for creating landscapes, and you can import graphics of your own as well.
There is a plethora of tilesets to choose from that cover a variety of genres.
Making maps goes pretty fast, there is support for all types of items, vendor shops, level progression, and everything else needed to create your own JRPG.
2. RPG Playground
RPG Playground
Runs On: Web Browser
Exports: Plays in a web browser
Price: Free
Skill Level: Beginner
RPG Playground is a multiplatform web-based tool for creating RPG games. It is extremely simple to use and can produce decent results in a small amount of time. This platform has been around for a few years and received new updates on July 6th, 2020.
One of the great things about the RPG Playground is that the developer has an active YouTube Channel (RPG Playground on YouTube) and the default sprite set is pretty diverse.
It's nice to see a project like this in ongoing development and support.
They also have a pretty comprehensive online documentation.
One issue I noticed is that there is no inventory control and no way to change armor or weapons. This leads to games that are more like stories or maybe like a Zelda game. You can attack and fight with a sword but it's always the same sword.
This is a very promising program, it will be interesting to see how the developer expands it and where they go with it.
RPG Playground is a good choice for beginners.
3. SMILE Game Builder - RPG Edition
SMILE Game Builder
Runs On: Windows
Exports: iOS, Android, WebGL (with optional Exporter for Unity $79.99)
Price: $69.99 (Sometimes available on Steam at HUGE savings)
Skill Level: Beginner to Intermediate

The SMILE Game Builder - RPG Edition is a fantastic choice for a 3D or 2D JRPG maker.
There is a free demo version on steam, the limitation is you can't export a stand-alone Windows executable with the demo,
SMILE is like a 3D version of RPG Maker MV and it's $10 less.
SMILE is not as expansive and extensible as RPG Maker but has enough basic functions to build a decent JRPG.
Released in September of 2016, SMILE was updated as recently as June 8, 2020.
The program comes with a large toolbox of 3D assets making it easy to make your own RPG right "out of the box".
If you can't find what you want in the built-in 3D library, you can import your own item, building, and character models from Blender.
You can also easily customize 3D terrain blocks just by using your own art.
No programming required; use event chains.
Create your own items and stores.
I didn't see support for crafting built-in, but it's probably possible using the eventing system and robust item system.
The commercial version can export a Windows executable for selling or sharing.
If you want to export to a variety of other formats, you can purchase an upgrade with the Unity exporter.
SMILE is a great way to go if you want to develop Japanese style RPGs in 3D. Very much like RPG Maker, but not as expansive or extensible.
4. 001 Game Creator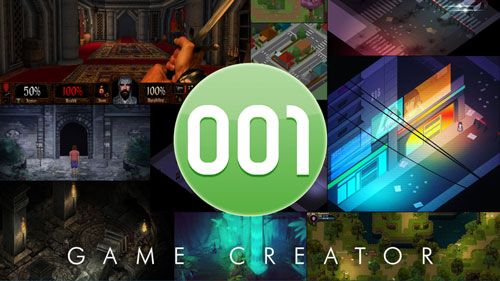 001 Game Creator
Runs On: Windows
Exports: iOS, Android, HTML 5
Price: $59.99 (Sometimes available Humble Bundle or on Steam at HUGE savings)
Skill Level: Intermediate to Advanced
001 Game Creator was released on Steam in 2015, this program was updated as recently as July 13, 2020.
001 Game Creator is a 2D/3D, general-purpose game creator platform that can create multiplatform executables for PC, Mac, Android, and iOS.
001 Game Creator is an extensive, and full-featured game authoring platform. The program includes particle systems, sprite handling, 3D environments, and so much more.
Platform games, card games, RPG games, action/adventure games, and even side-scrolling shooters can be built with this authoring platform.
Taking a look at this system, I can see a lot of potential for authoring computer RPG games.
Everything is done through an event flowcharting system, but the system is very complex and can achieve many things that will bring value to your customized game.
You can't get anything done in 001 Game Creator without scripts, but good news: the script editor is a visual event flowchart. Rather than learning a programming language, you just arrange events into trees. This gives the creator a lot of flexibility for customizing their game.
One of the drawbacks is that it takes many steps to get any custom scripting done. It's cool that there are so many events you can tap into, though it seems like it takes a long time to get things done.
001 Game Creator supports stores, items, leveling, variable progression, and more.
The downloadable MMORPG kit allows you to host a multiplayer MMORPG server to share with the world.
The MMORPG kit comes with support for creating NPCs, quests, shops and inns, inventory management, dialog editors, combat, and a registration and login system.
You can also create custom commands to run on your server so that, for instance, the GM could give items or money to certain players, or perform other maintenance and administration tasks.
Another DLC (but not one I'm very interested in) is the Adventure Kit, which produces games similar to Adventure Game Studio (static backgrounds you move an animated sprite over - like King's Quest or Leisure Suit Larry. This DLC might be better for beginner to advanced creators
I would recommend 001 Game Creator for the intermediate to the advanced creator.
5. Unity
Unity
Runs On: Windows, Mac, Linux
Exports: Windows, Mac, Linux, Android, iOS
Price: Free for personal use
Skill Level: Beginner
Unity is a cross-platform general-purpose 2D/3D game engine.
Using the Unity RPG Creator Kit makes it super easy to create your own RPG.
Unity so many features that I would normally put it in the Intermediate/Advanced category. Fortunately, the RPG Creator Kit makes creating RPG games in Unity accessible to beginners.
Using a drag and drop interface, along with easy-to-use property panels makes this platform ideal for creating RPG games without programming.
Unity tutorials show you how to create your game with tilemaps and then share it with your friends.
Pre-created animated objects, scenery, and NPCs are included with the Kit.
RPG Creator Kit has Quest support and allows you to easily make new maps.
This is a great way for beginners to get started.
6. RPG World - Action RPG Maker
(Formerly MyWorld)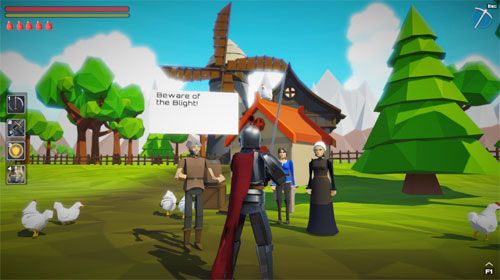 RPG World Action RPG Maker
Runs On: Windows
Exports: Online Play Only
Price: Free
Skill Level: Beginner
This program is a clever 3D, low-poly RPG construction kit that is easy to use.
Using this program and its existing RPG framework, you can create your own worlds and add them to a directory on Steam to share with other players.
You can't bring in your own graphic resources, but you can add more items through downloadable content (DLC) expansions.
This program allows you to edit terrain, create quests, link zones together, and more.
No programming is required or allowed; everything is controlled with command panels.
This is a great system for people just getting into the hobby. It gives great introductions to computer RPG concepts.
There is no item management and no stores, but there are a variety of items and treasures you can place in the world.
The game editor is easy to use and you can create player vs player or co-op games.
Been around at least 3 yrs but still listed as Early Access. I'm not sure if the original developer is still updating this, but the splash screen displays Game Creators, so maybe they have taken it over? There haven't been any updates in a while.
The game builder comes with a limited set of resources to get you started, enough to let you try making a game. However, to have a full selection of monsters and items you need the must-have plug-in: The Creative Pack ($9.99 USD).
The game is most suitable for land-based adventures. It comes with buildings with working doors that you can enter and decorate.
Resources for making subterranean adventures are limited, but there are 2 hacks:
Option 1: Use the rock arch model, rotated to various degrees, to form tunnels and chambers.
Option 2: Dig into the terrain then cover it with wooden bridge panels and paint them like a rock.
There is a decent Quickstart Guide and a few videos to get you started.
Despite the lack of level progression, dungeon models, stores, items, or crafting, RPG World is still a great way for a beginner to get started in the world of online RPG creation.
Fun to tinker with and create pick-up games or story-telling with friends.
7. Realm Crafter Community Edition
Realm Crafter Community Edition
Runs On: Windows
Exports: Online or Local LAN Play Only
Price: Free
Skill Level: Beginner to Intermediate
Realm Crafter Community Edition is all that's left of the Realm Crafter MMORPG maker originally by Solstar Games.
After many years of promising to release the software, the developer eventually gave up and abandoned the program to the community.
Thankfully, some Realm Crafter community members stepped up and repaired some bugs, streamlined the interface, and created a Community Edition.
Realm Crafter had a vibrant community and supported the creation of MMORPG servers you could run from your own computer on a LAN or online over the internet (with a static IP for the server).
This software gave you everything needed for creating player characters, monsters, zones, architecture, caves, items, vendors, and even a way to push updates out to clients. It also included its own scripting language.
This was my first MMORPG creator and holds a place of nostalgia for me.
I actually wrote my first book about Realm Crafter, the Realm Crafter User's Guide. (Available at Lulu and Amazon)
Despite the popularity and capability of this program, it never got the TLC it needed to become a successful product.
Nonetheless, Realm Crafter remains a very decent program for quickly prototyping ideas and with a little work can function as a small-scale MMORPG.
I will write some more articles and provide a link to the Realm Crafter Community Edition in the hopes that other folks will find it useful, as well as to archive my own documentation and videos I created on the topic (for posterity).
Keep an eye out for articles detailing how to install, use, and download Realm Crafter Community Edition 2.0.
Realm Crafter is meant for beginning to intermediate users, as some scripting is required.
Feedback
Do you have a favorite RPG maker? Which one and why? Let me know in the Comments section below.