You need a way to transfer files to the AWS Lightsail remote server so you can easily deploy server updates from your local workstation. In Part 3 of this multipart series, I'll show you how to share a local drive with the remote server.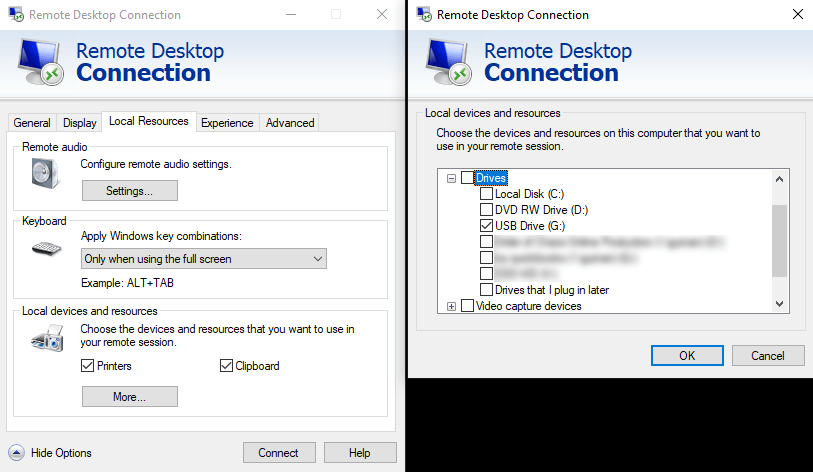 Sharing A local Drive With The Remote Server
The next thing we need to do is to set up a shared folder on our local computer then tell the remote desktop program to link into this so we have an easy way of transferring files back and forth to the new server.
For this example, I am sharing a USB drive on my local computer. Anything I want to share with the remote computer can go in here – the remote computer will be able to see it.
Press the Windows button on your local workstation and type in "remote desktop".
Choose Remote Desktop Connection from the results.
Choose Show Options.
Click the Local Resources tab.
In the Local Devices and Resources box, click More.
Select the drive you want to share. In my example, I am sharing a flash drive on my local workstation (Drive G:).
Click OK.
Close the remote desktop window – we'll open it again later when we are ready to connect to our new remote server.


Create A Realm Crafter Test Server
On your local workstation, Open the GUE, create a new server, and drop that Server folder on your shared drive so you can access it from the remote server.
Switch over to the remote server using your Remote Desktop Connection and copy the Realm Crafter Server to the desktop.
By the way – you will have to repeat this process every time you deploy a new server. To save time, consider ZIPing your server folder before you drop it on the shared drive then unzip it once you have copied it to the desktop of the remote server.
Open the Server folder you copied to the remote server desktop and run the Realm Crafter Server.
Unlock the server. If you got no errors, you set up the server correctly.
Congrats!


Want To Make Your Own MMORPG?
You can make a game for friends and family. With a little extra work, maybe make it a commercial enterprise.
Grab A Free Copy Of Realm Crafter Here (MakeYourOwnRPG.com Store)
Your Turn. What Do You Do?
Were you able to transfer the Realm Crafter Server folder to your AWS Lightsail virtual host and successfully run and unlock the Server?
Tell me about it in the Comments Section. I'm interested in how I can improve this article.
---
E-mail Notification Opt-in
Do you want to receive email notifications when we add new game design content?
Sign up on our private mailing list.
YES! Notify me of new game design posts!